The Belgian front zone, from Newport at the coast to the French border at Comines-Warneton, is actually one large, continuous archaeological site, with thousands of war features preserved in the ground. At the surface today, we see only graveyards, commemoration monuments and pillboxes. At first sight, that is, because the landscape is literally covered with scars of the war: remains of trenches, mine craters, and vast areas that still remind of the massive destruction caused by four years of intense artillery shelling, where millions of explosions converted the woods, fields and pastures of Flanders into a lunar landscape by the end of the war. Many of these shell holes and craters are still preserved today; you only have to know how and where to look. Next to this preserverd landscape of destruction, there are numerous remains of Great War trenches, narrow-gauge railways, practice fields and campments, all over Flanders.
These sometimes subtle traces form a large part of the war heritage in Flanders, although they are mostly unknown. The recent Digital Elevation Models of Flanders (DHMV II, AGIV) and of Wallonia (MNT 2013-1024), made by Airborne Laser Scanning (ALS or LiDAR) can be used to trace all these remains: the detailed elevation models show all subtle relief differences in the forested areas (as it can filter out tree cover and other vegetation), but also in pastures and arable lands. Different visualisation techniques help to highlight even the smallest features preserved in the microtopography. Our team is now analysing the entire study area, and a first estimation is that about 14% of the area still has these surface features, much more than previously known.
Here are some examples; use Mozilla Firefox or Google Chrome for optimal viewing.
German WWI practice trenches and fake practice shell holes (black dots) in De Haan (North Sea coast). Orthophoto and DHMV II (Informatie Vlaanderen), sky view factor visualisation (SVT Toolbox). © Ghent University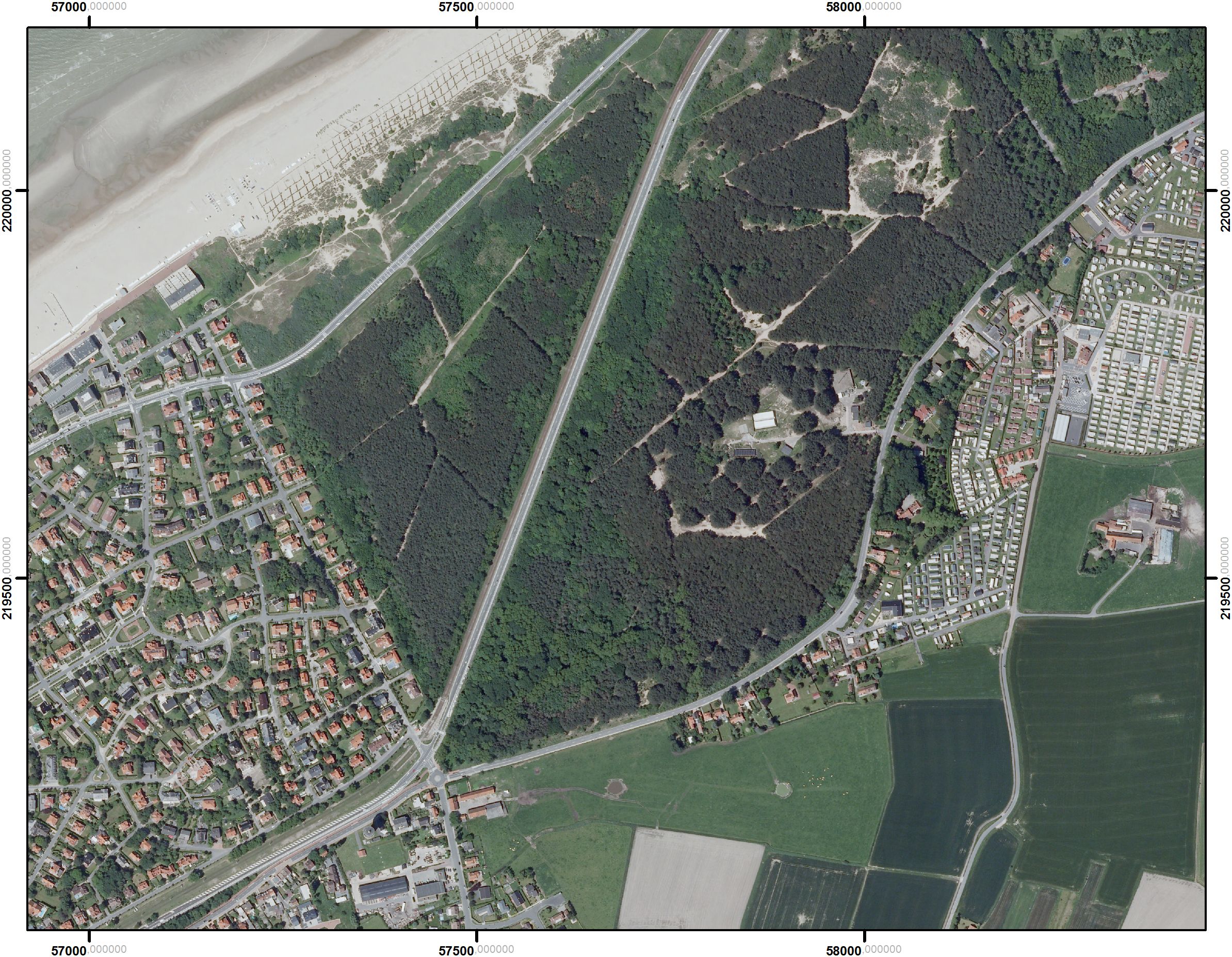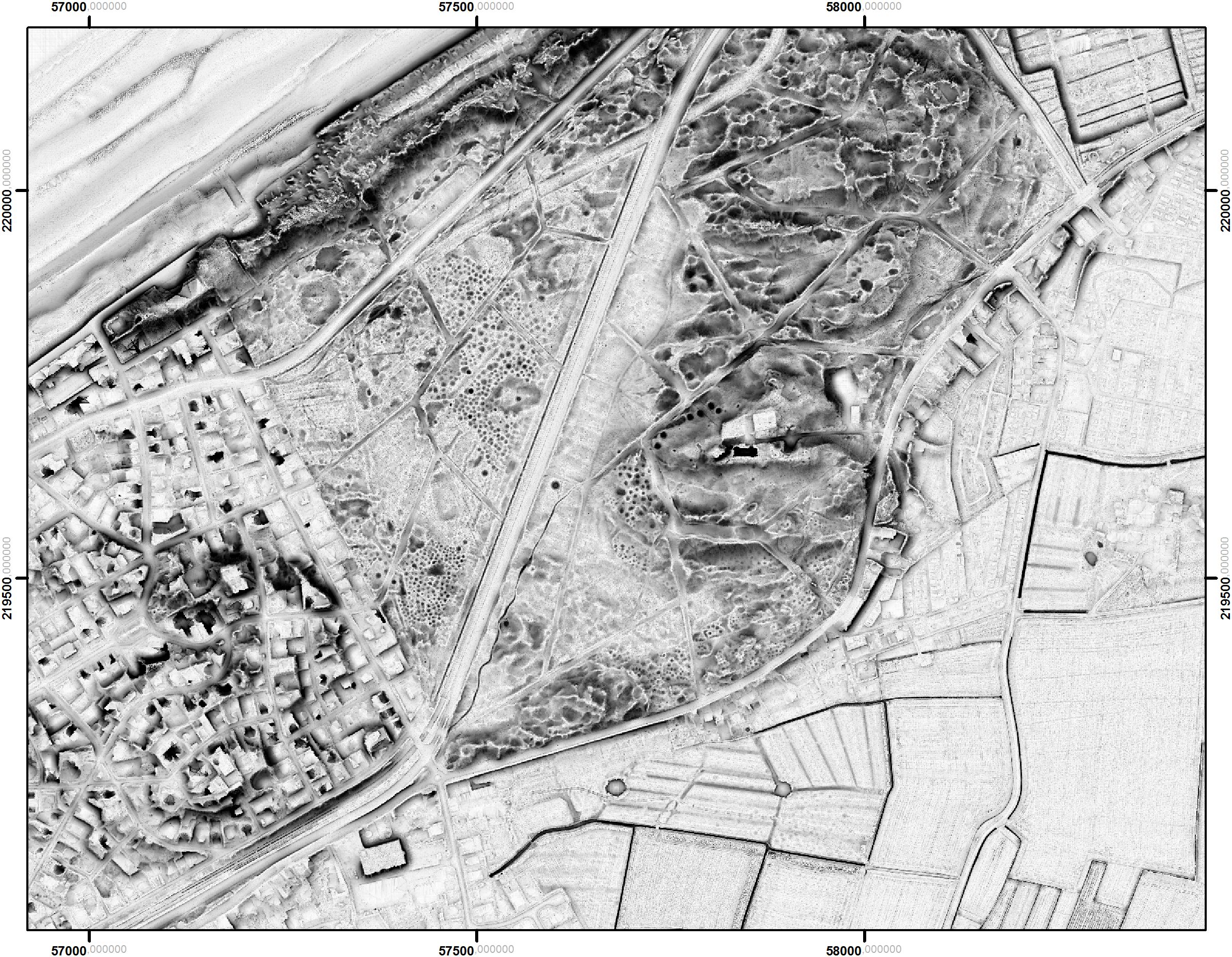 German WWI trenches in Kapellen (Mastenbos), a defence line around Antwerp and along the Dutch border. Orthophoto and DHMV II (Informatie Vlaanderen), multi-hillshade visualisation (SVT Toolbox). © Ghent University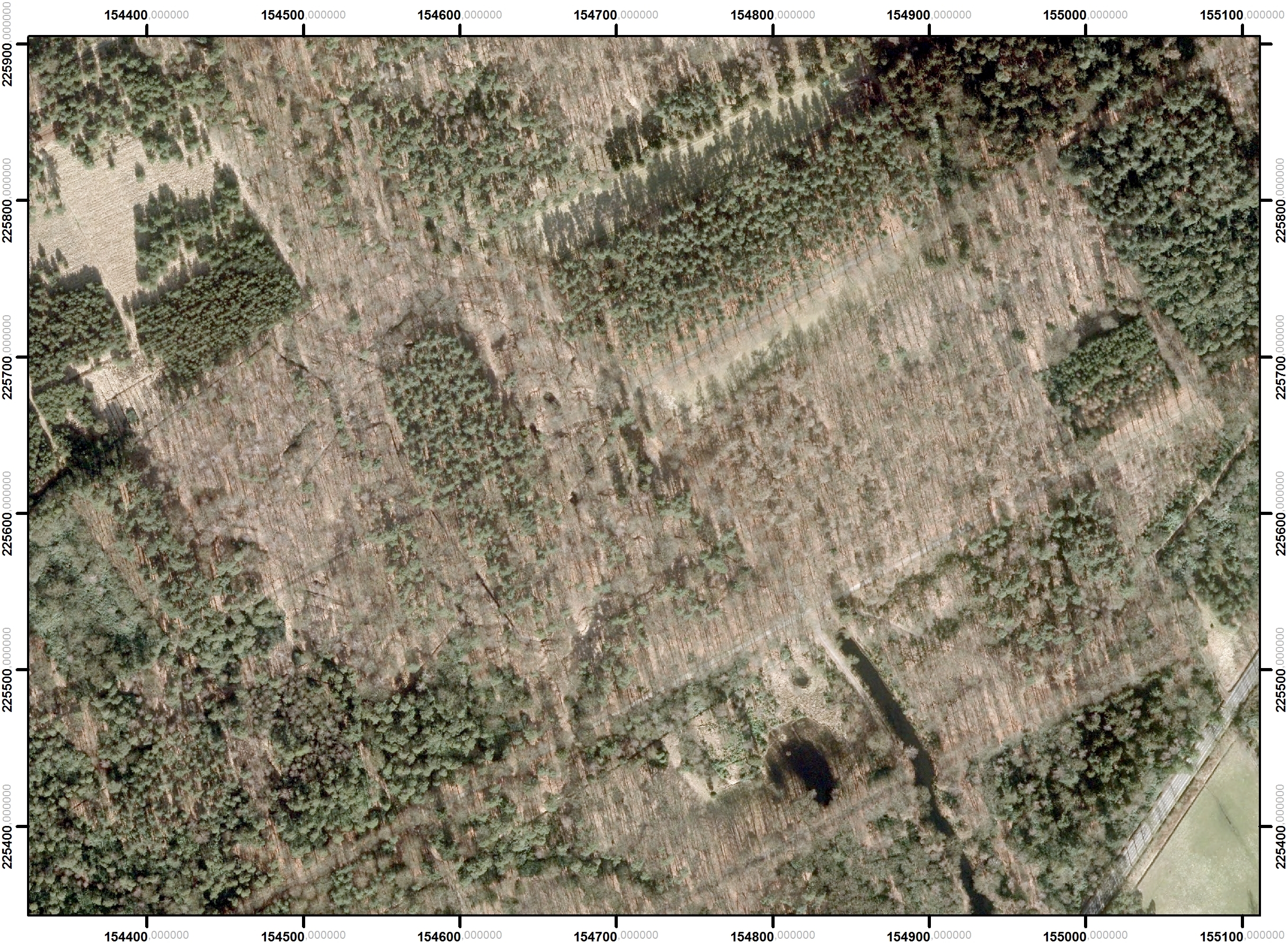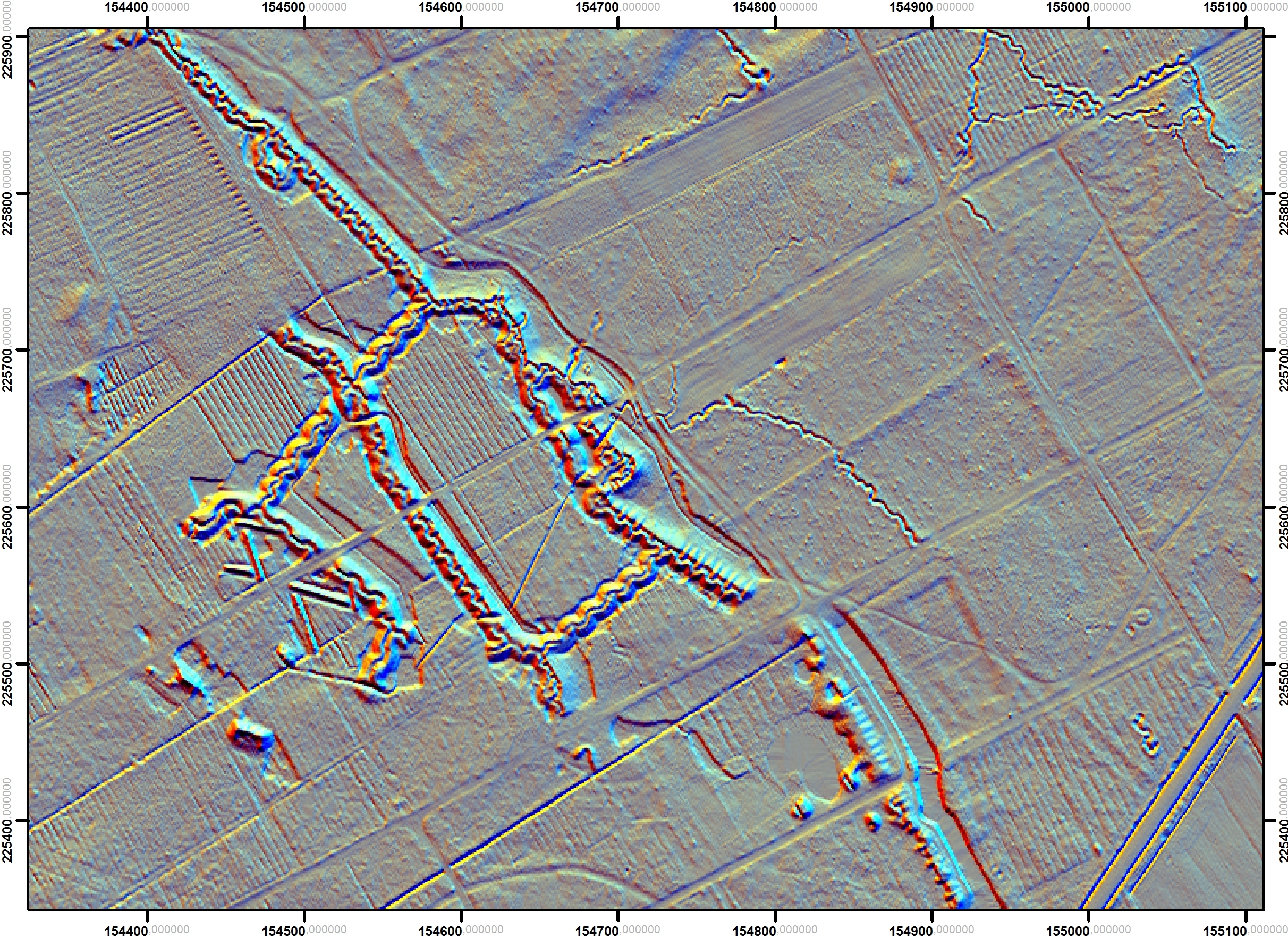 German WWI practice trenches in Maasmechelen. Orthophoto and DHMV II (Informatie Vlaanderen), sky view factor visualisation (SVT Toolbox). © Ghent University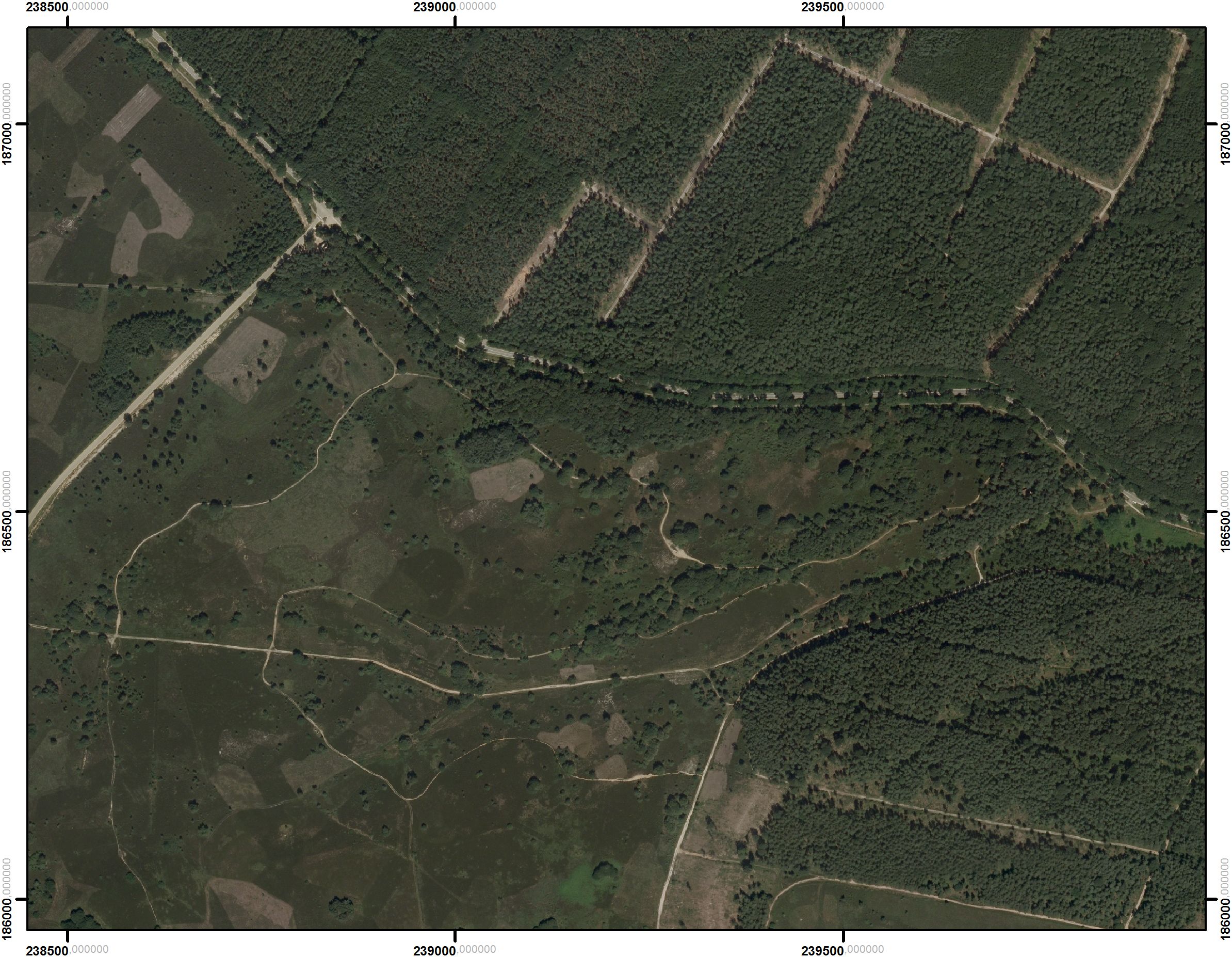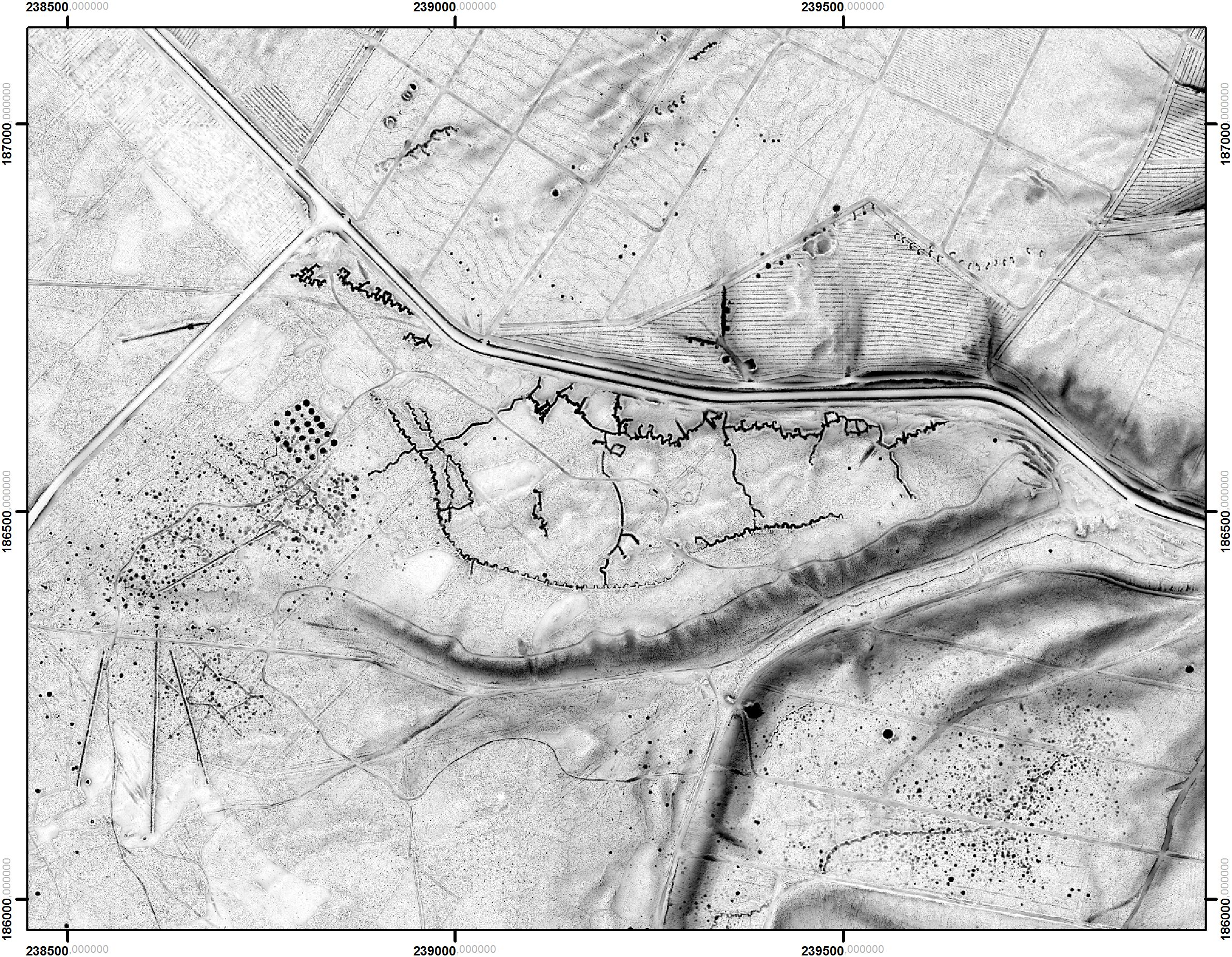 Preserved WWI features in Plugstreet Wood in Comines-Warneton. Orthophoto and DHMV II (Informatie Vlaanderen), sky view factor visualisation (SVT Toolbox). © Ghent University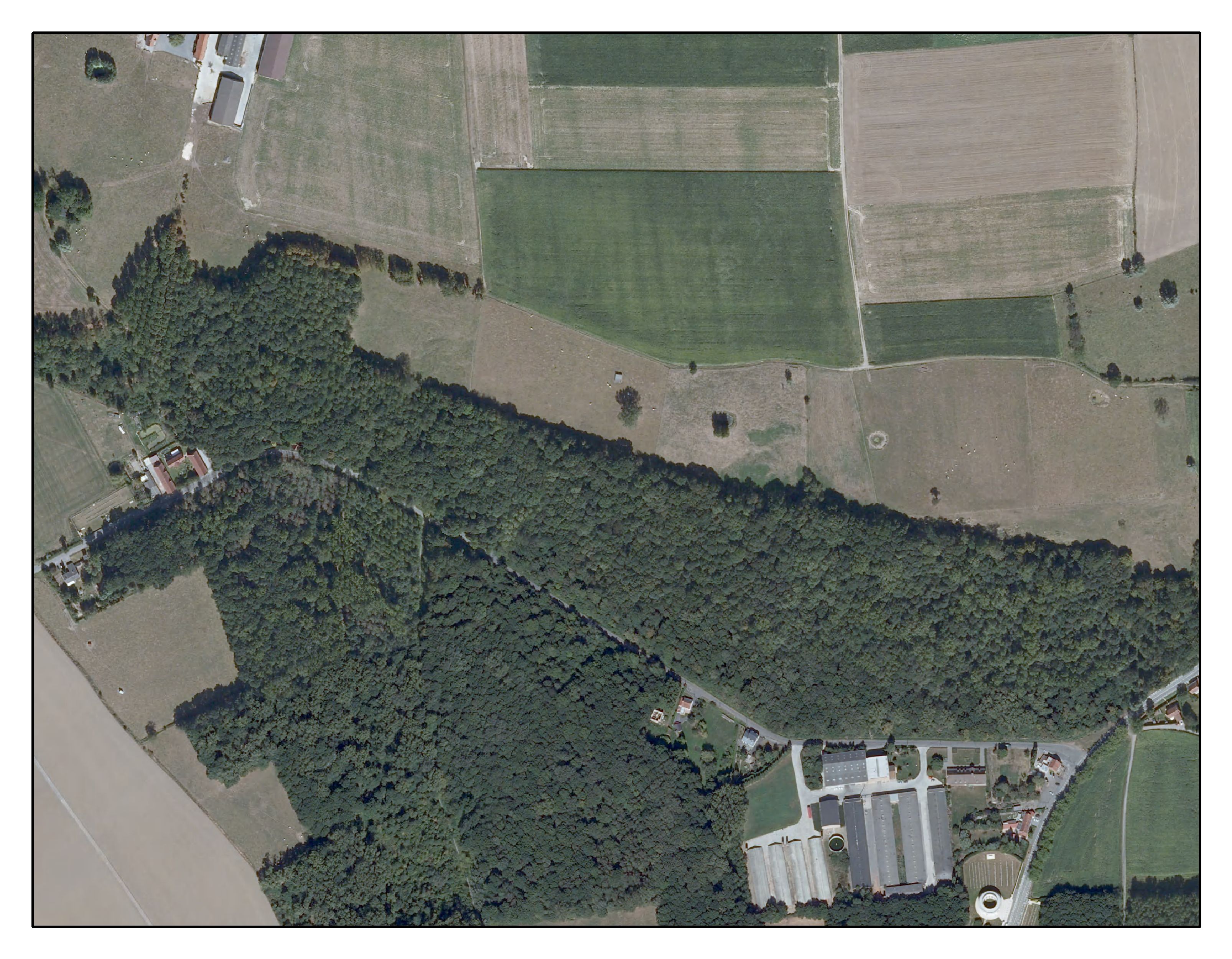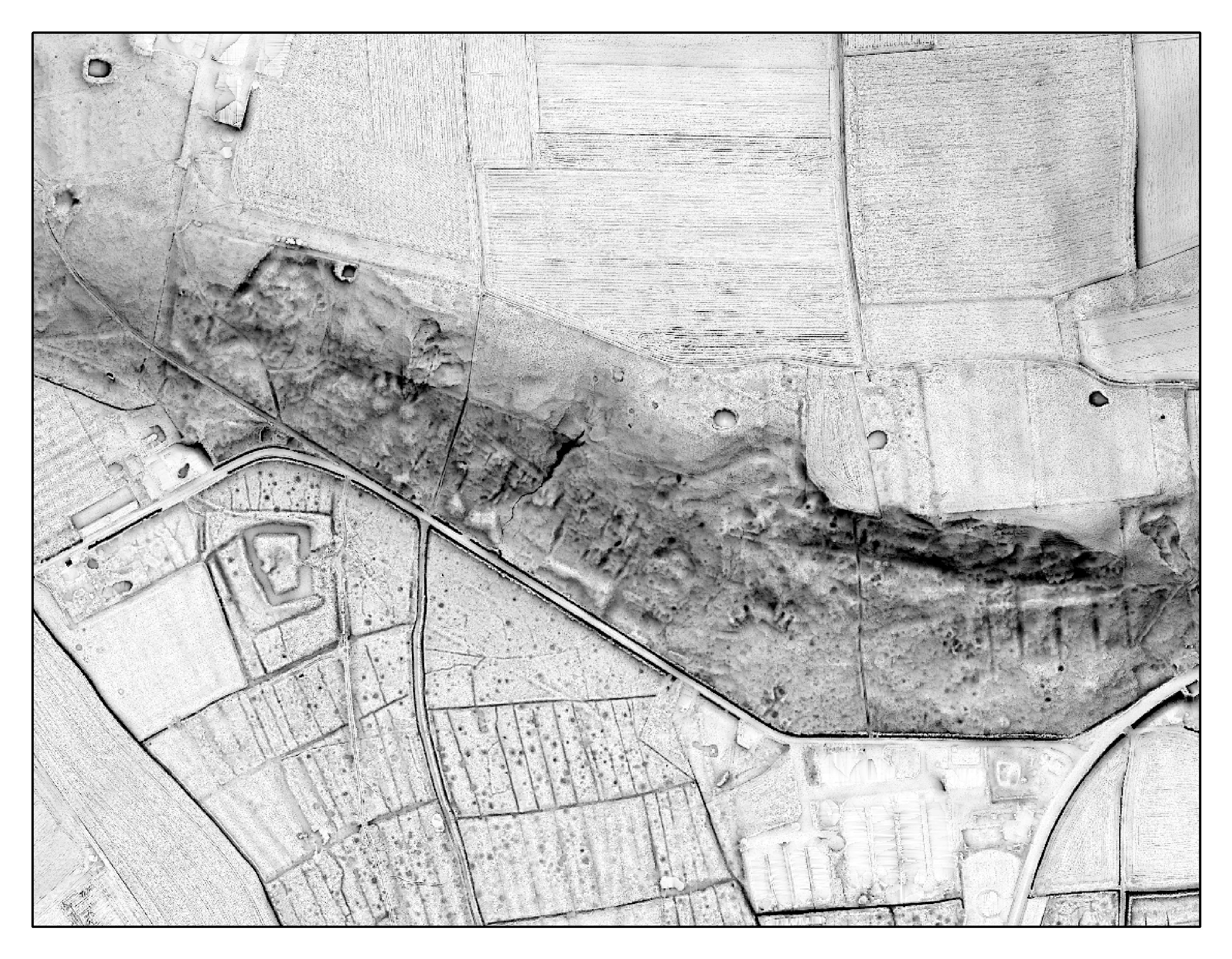 WWI practice trenches in German occupied area in Lessines. At the other side of the road, in the Southern part of the woods, you can see a nicely preserved burial mound from the Bronze Age. Orthophoto and MNT 2013-2014 (Service public de Wallonie – SPW), hillshade visualisation. © Ghent University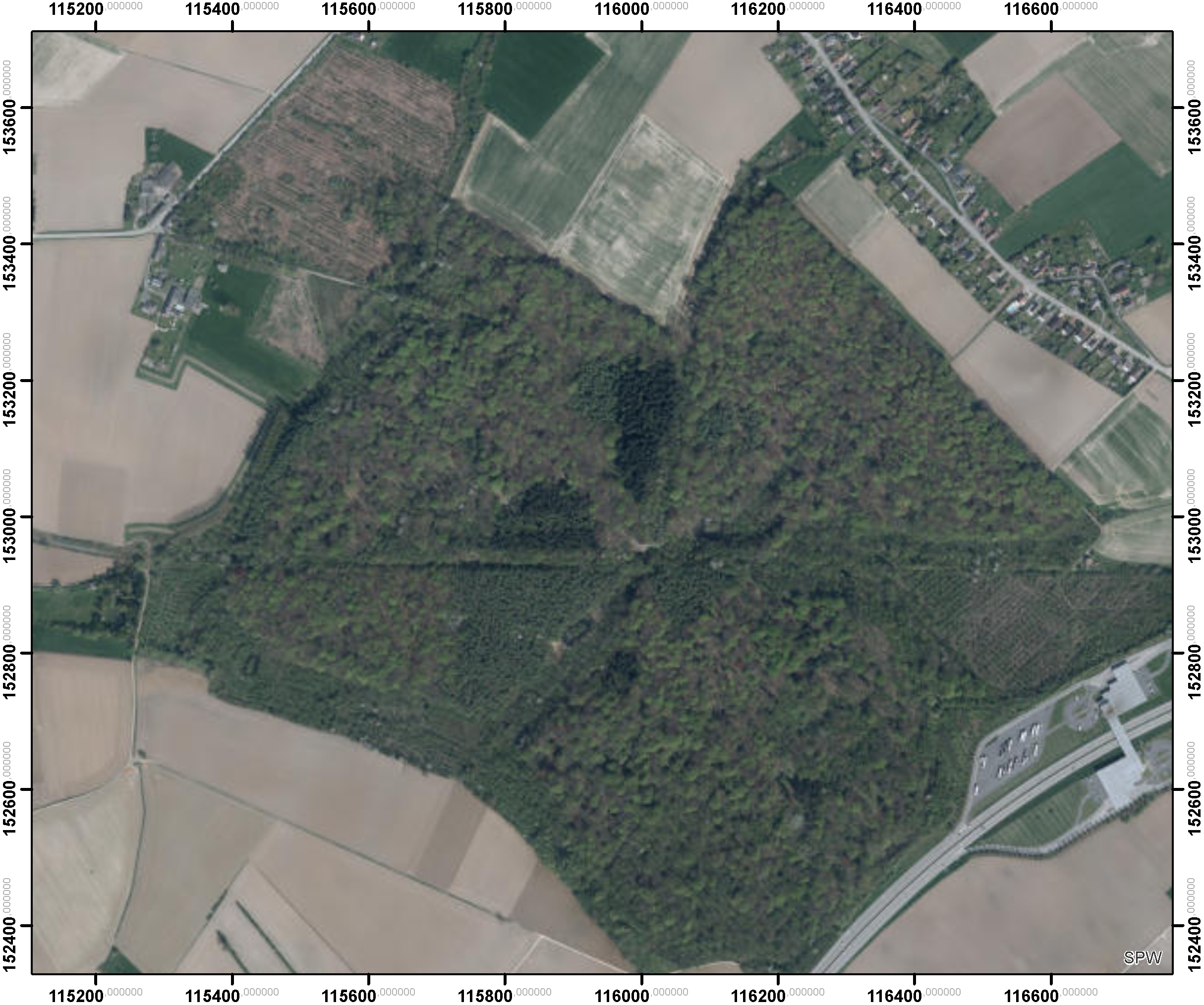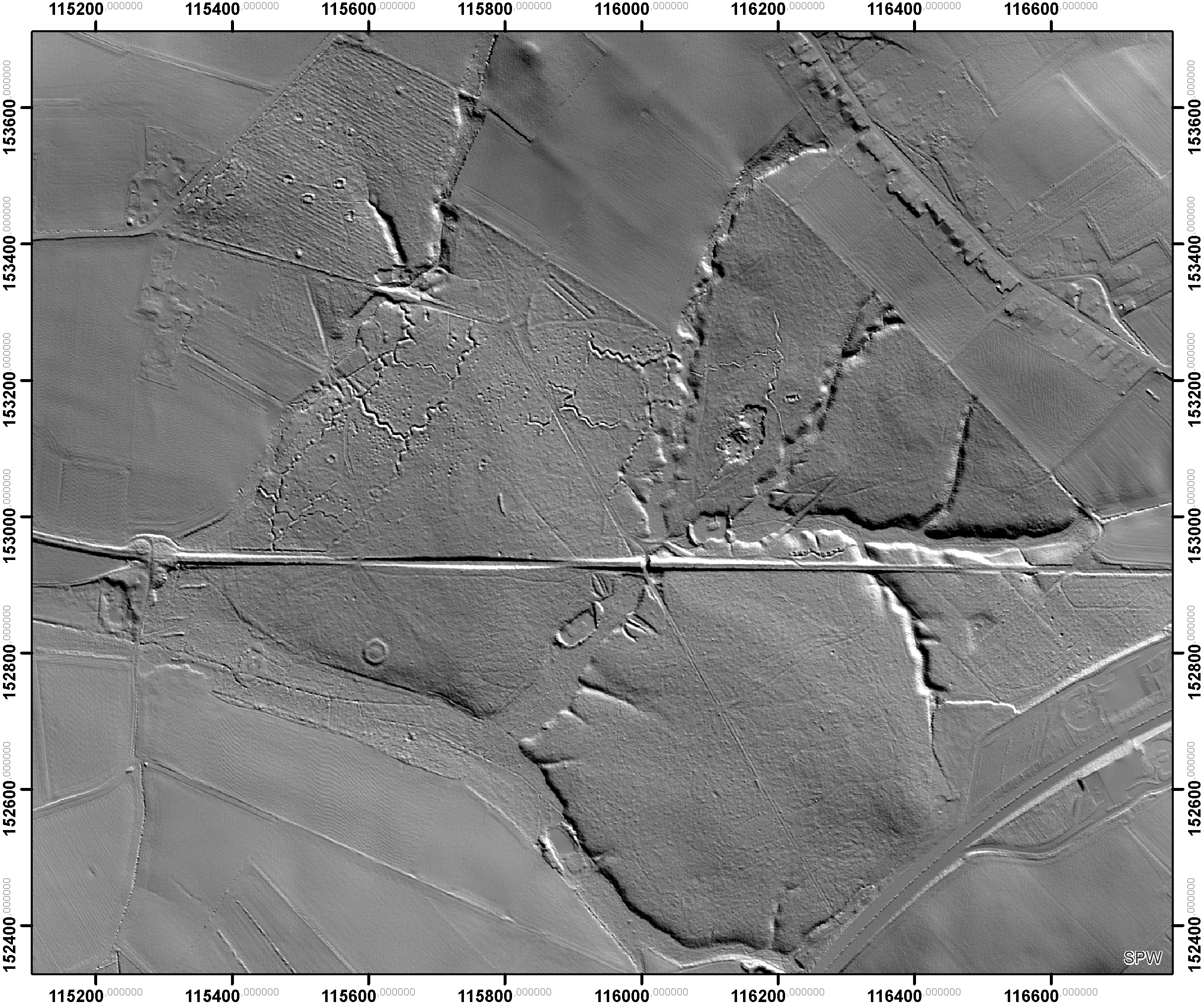 German WWI trenches around the fort of Ertbrand (Kapellen) part of the defence line around Antwerp and along the Dutch border. Orthophoto and DHMV II (Informatie Vlaanderen), sky view factor visualisation (SVT Toolbox). © Ghent University